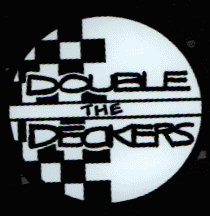 Welcome to The Double Deckers' Pimp Palace. In case you're new here, The Double Deckers are a ska band that resides in Tallahassee, FL. They have been together for over 3 years and are currently playing out in support of their debut cassette, "Pass The Peas." E-mail the band to book a show, or for more info! Also, recording has begun on a full-length CD to be released this Winter! The Double Deckers are about putting on a great show live, so check 'em out when they hit your town!


News and Stuff:
Coming soon: www.thedoubledeckers.com



Do you play trumpet or tenor sax? Wanna jam? E-mail us.



Recording is going great! It's being done with Jim Morris at Morrissound Studios in Tampa. The full-length CD will be out in early 1999.



Also on the way are T-Shirts! Woohoo! Designed by our one and only Merchandise Queen, Sherill!



Don't have "Pass The Peas" yet? Get them while you can! (Available in Tallahassee at CD Xchange & Vinyl Fever!)





Stay tuned for more info!

Sign the damn guestbook!


Contact us at:
     The Double Deckers
      1001 Ocala Rd. #326
       Tallahassee, FL 32304

rawkers have been to the Pimp Palace since 7/10/97.

©1998 Double Deckers.